Primary Students Take Environmental Lead
Thanks to an increase in donations and community grant funding allocated towards the Schools Behind Our River project, the Ruamahanga Restoration Trust has been able to support several primary schools in 2021 with thousands of native flaxes, grasses, and tree seedlings for restoration planting activities.
Gladstone School was the first primary school to get behind the Ruamahanga Restoration Trust's offer to support local schools with resources for planting activities, In July, the school community, young and old, came together for a working bee to support the students to maintain and further plant the stream embankment area adjacent to the school. Greater Wellington Regional Council Take Action Biodiversity Fund and the Ruamahanga Restoration Trust provided funding for planting and materials.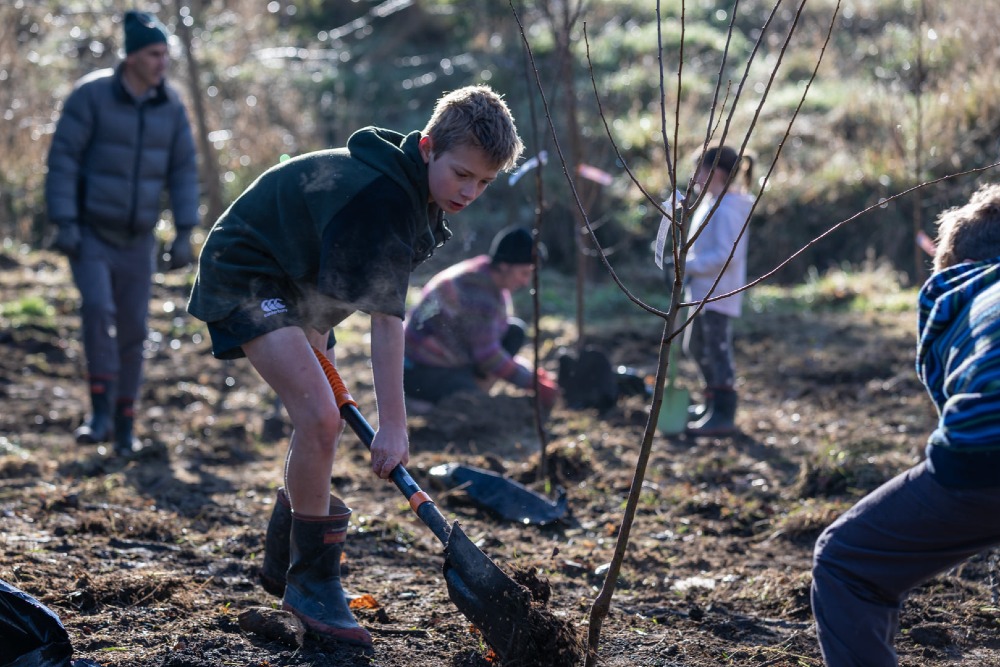 Gladstone School Principal Belinda Bunny expressed a "massive thanks to the Ruamahanga Restoration Trust who most generously donated funding to pay for the native trees that were planted at our working bee along the stream embankment and up around the transpiration field in the bike track area. The trust provided over 1,000 native plants that will help to clean up the waterways around our school."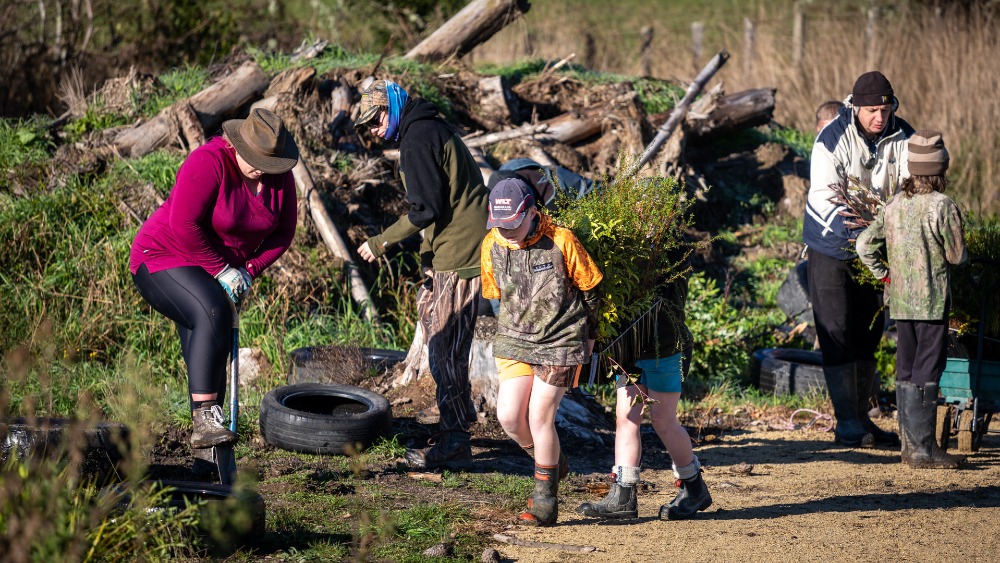 According to EnviroSchools, the momentum at Gladstone continues as the school now places value on this as part of their local curriculum. "It is a place where students can connect with Papatūānuku and be reminded of appropriate tikanga to use as whānau of the living environment. It provides a way to connect to those who have come before who may have guidance for us in the future."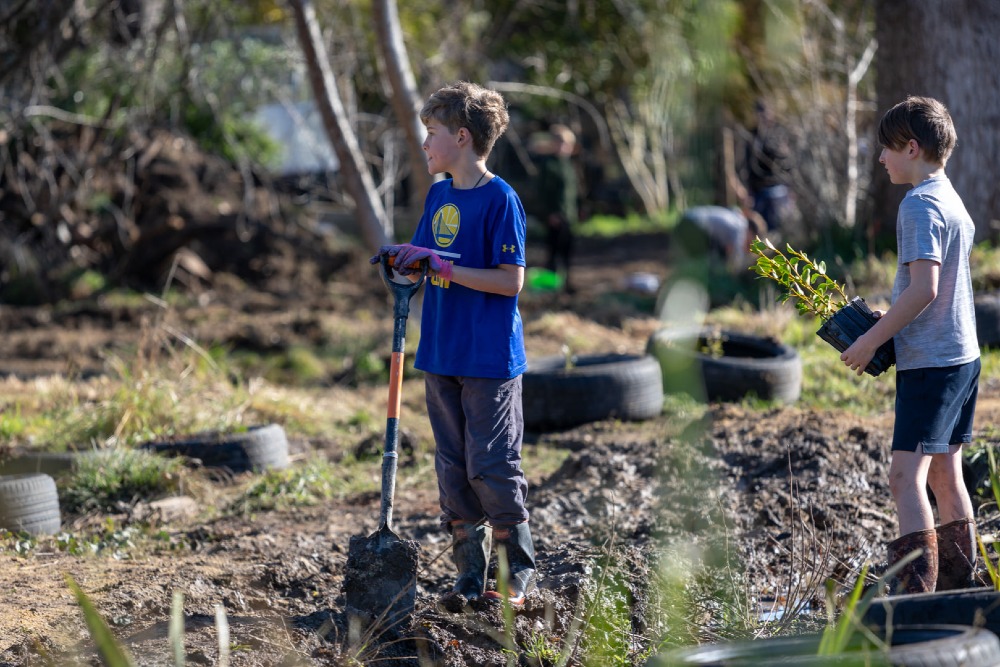 Mauriceville School, which has around 16 rural students, is doing great work supporting their local rural community by providing schooling for primary students living in a relatively remote area. These young students are the future backbone of our farming communities, and it was so rewarding to see the excitement and enthusiasm on their faces when presented with an opportunity to plant out an area of their school with native trees.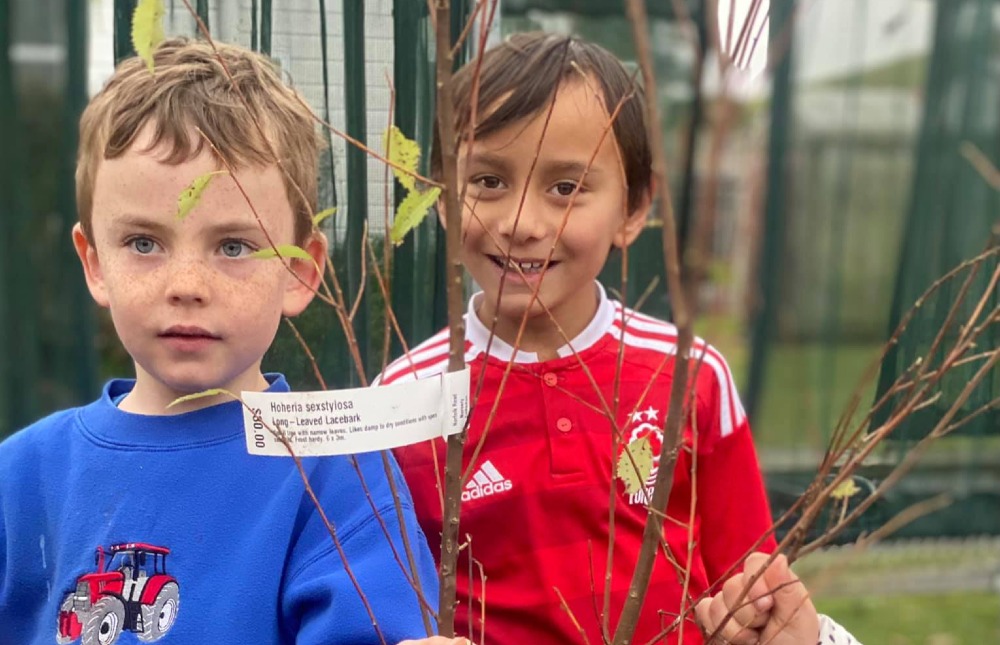 The Trust has promised to retur to Mauriceville because our trustees noticed several riparian margins along the Kopuaranga River that would benefit nicely from some restoration plantings. The Kopuaranga feeds into the Ruamahanga River just behind Rathkeale College and is a vital tributary with a depth of local history.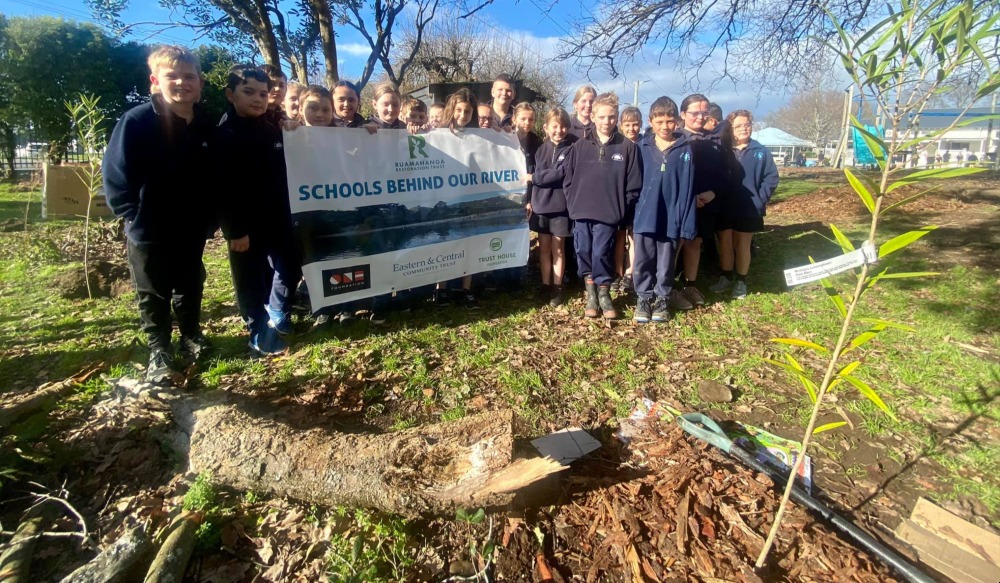 Solway Primary School also led an impressive turnout with nine classes getting involved, despite the cold weather. Once again, it was fantastic to see the students enthusiasm under the awesome guidance and care of teacher Steve Hornby who made great efforts to teach each class about the significance of the trees and how to plant them using teamwork.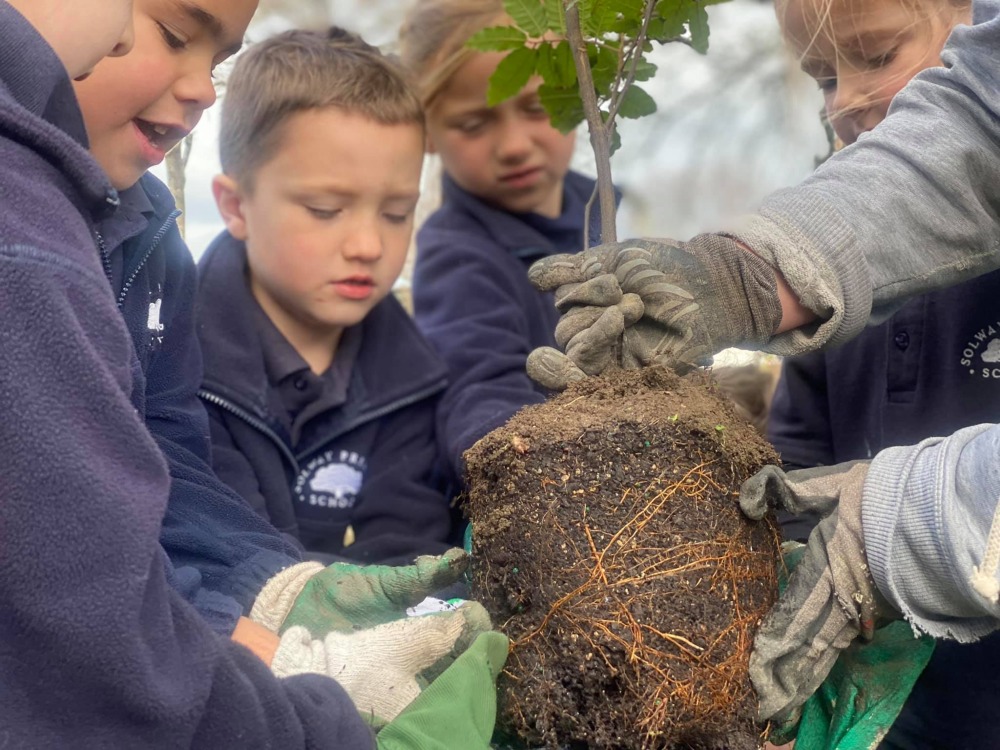 Wairarapa Earth School in Carterton and Kahutara School in South Wairarapa are both undertaking school plantings as we write, with more planting activities planned this year for Rathkeale College, Opaki Primary, and Mākoura College.
The Schools Behind Our River project would like to acknowledge QEII Regional Rep Trevor Thompson for his on-site advice and selection of locally sourced native seedlings. Trees planted include: Long-Leaved Lanceback, Matai, Totora, Kowhai, Toothed Lancewood, Titoki, Black Maire, and Ribbonwood.
The Ruamahanga Restoration Trust is also grateful for the support from individual donors, our corporate sponsor Gibson Sheat, and for community grant funding support from Trust House, One Foundation and Eastern & Central Community Trust.