Predator Kits Rolled out for Local Schools
The Ruamahanga Restoration Trust is pleased to announce a special partnership with Pūkaha National Wildlife Centre and Enviroschools Wairarapa to distribute predator kits as part of an educational initiative to help school students understand the need and benefit of wildlife monitoring and predator trapping.
Packaged with school curriculum activities in mind, each kit includes an infrared trail camera complete with SD cards to record and photograph the activities of wildlife predators — such as stoats, rats, possums, hedgehogs, rabbits, and feral cats. The kit also includes D-Rat traps, a DOC200 trap, chew cards, Gotcha tracking tunnels with pre-inked cards, a predator footprint guide, and a copy of New Zealand Natures Heroes by Gillian Candler.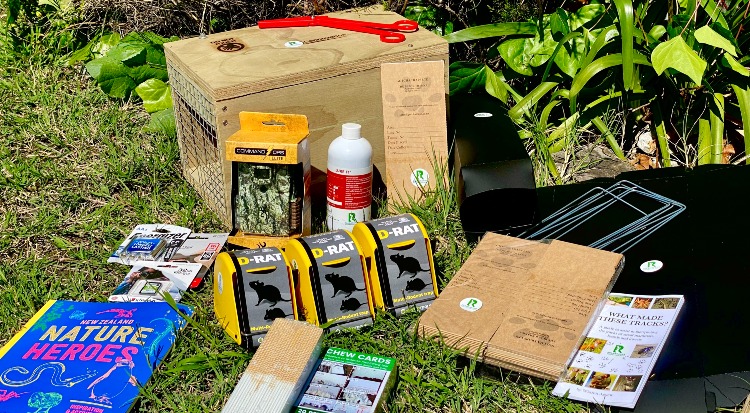 "There's something in there for every student," says Campbell McLean, a trustee with the Ruamahanga Restoration Trust. "Some students might be interested in trapping, whereas others will find the monitoring aspect more interesting, using the chew cards and tracking tunnels, collecting and analyzing the data, or using the trail cameras to record and post media stories around their activities." The end goal is to help local schools help students understand the need for predator control, and to develop greater awareness around conservation, protecting the biodiversity of our natural habitats and environmental heritage.
"For students to have the opportunity to take charge of a trapping project within their own space is so exciting, not just for the prospect of what they might find but also the skills they can learn," says Kelly Body, Education Director at Pūkaha National Wildlife Centre. "Also, the amount of bird, insect and lizard life that can be found in areas around schools can be pretty remarkable. Connecting students with this not only helps them understand the importance of looking after our different environments, but it also helps out the unique wildlife as well."
The value of each kit is just under one thousand dollars — paid for by the Ruamahanga Restoration Trust. Each kit will be distributed for free in support of the Trust's environmental education project, 'Schools Behind Our River'. The trustees came up with the idea after working with local predator control expert John Bissell. "John had been volunteering his time introducing trapping techniques and demonstrating the trail cameras to students at Rathkeale College last year," explains Campbell, who acknowledges John for his great work in the field and fellow trustee Michael Birch for the idea. "Michael suggested we package a list of items together in one box — a complete kit — and distribute them to other schools across the district. Now, everything they need is in that one box, and if the consumables need replacing, then we'll do that too."
Campbell then approached Kelly Body at Pūkaha to help support the education side of the idea. Pūkaha then brought in Wairarapa Enviroschools as they had already been collaborating on tracking and trapping workshops with primary schools in the Wairarapa since 2017. Their next workshop is scheduled for Term 4 with schools from South Wairarapa.
"Having all of the equipment needed means that schools can maintain a long-term practice of tracking and trapping," says Gill Stewart, Wairarapa Enviroschools Community Facilitator. Schools that have been planting trees with funding from the Ruamahanga Restoration Trust will be offered the kits first as part of maintaining the health of the newly planted trees, making sure that predators aren't undoing all the good work.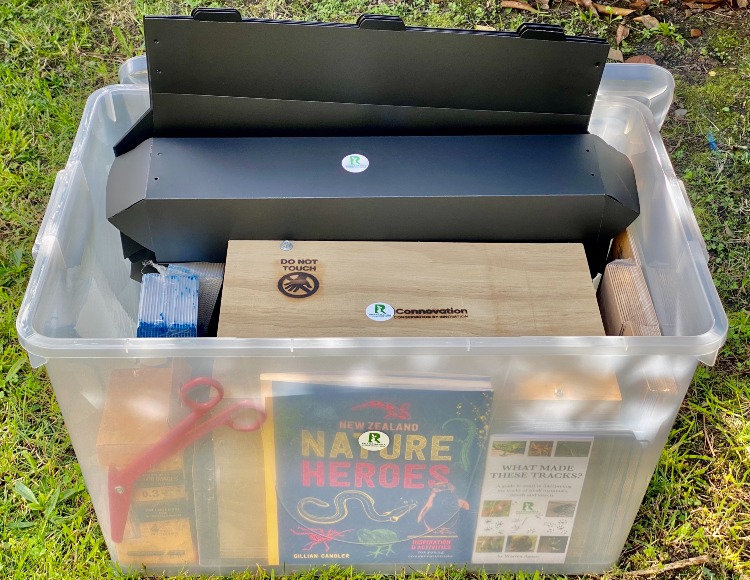 The kits will be delivered to schools by Pūkaha and Enviroschools to use for two terms, complete with an induction process and ongoing guidance for students and teachers to support monitoring and sustainable trapping projects in schools and within the local community.
Campbell says the partnership with Pūkaha and Enviroschools Wairarapa makes for the perfect collaboration. "As a relatively new trust, we simply don't have boots on the ground to connect the schools and educational activities. It's much more practical to leave that to the experts who do this work on a weekly basis. This way we know the message is being delivered and the students are being engaged."
A trial of the kits will commence with two or three schools in Term Four this year, with more kit rollouts scheduled to follow from Term One 2023.
Schools located within the Wairarapa District who wish to participate in the Predator Monitoring program are welcome to contact the Ruamahanga Restoration Trust, Gill Stewart, or Kelly Body directly.
The Ruamahanga Restoration Trust would like to thank its donors, in particular, Michael Bruce-Smith for his generous contribution towards the cost of two kits. Michael was a teacher at Rathkeale College when the trustees attended school in the mid-1970s. He was instrumental in leading the Duke of Edinburgh Award programme, which encouraged students to tackle outdoor challenges, including excursions into the Tararua Ranges — experiences that helped form an early appreciation for our natural environment.
The Trust would also like to acknowledge Masterton Trust House, One Foundation, and Eastern & Central Community Trust, for helping to fund the 'Schools Behind Our River' project.